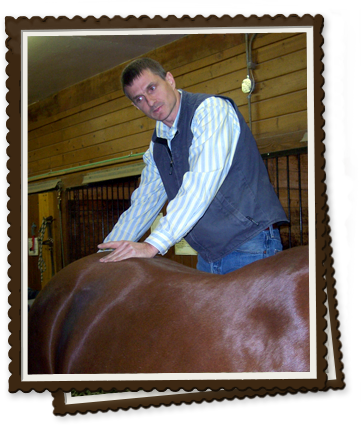 Wellness & Rehab Services
Acupuncture & Chiropractic
Acupuncture is the ancient art of Chinese energy medicine. It is used to balance the energetic pathways in the body called "meridians" and in this way restore the body to health. It is useful not only in musculoskeletal problems but as a diagnostic tool and curative agent in acute and chronic diseases of all kinds.
Chiropractic care is the art of spinal alignment. Muscle spasms, various sorts of trauma, and postural deviations caused by the horse compensating for an injury or painful joint, can cause subtle dislocations or "subluxations" of the spine which impinge on the spinal nerves, causing pain and the loss of full function and range of motion. Reducing these subluxations restores comfort, and brings the animal back to a more functional state. Most horses love being adjusted!
Brad Amery, DVM
Dr. Brad Amery is our Acupuncturist and Chiropractor. He graduated from the Ontario Veterinary College in 1996, and then completed an internship in Equine Medicine and Surgery with B.W. Furlong and Associates in New Jersey.
In 2005 Dr Amery attended The Healing Oasis Wellness Center (the only school recognized by the U.S. Department of Education) for training in Veterinary Spinal Manipulative Therapy (Veterinary Chiropractic) and he also attended the Chi Institute for Veterinary Acupuncture training during that same time. Dr. Amery has periodically returned to The Healing Oasis as a part-time instructor. Dr. Amery has worked with Dr Allen Schoen, a leader and pioneer in holistic veterinary medicine, for 3 years learning and perfecting a more integrative approach to Equine health and wellness. In addition to Veterinary Chiropractic and Acupuncture therapies, Dr. Amery offers Herbal treatments, Applied Kinesiology, Prolo Therapy, Laser Therapy, Digital Radiology, Diagnostic Ultrasound, and Ultrasound Guided Injection Techniques.
When not working, Dr. Amery spends time with his wife Carolynn, their 2 Corgi dogs, and 2 cats.