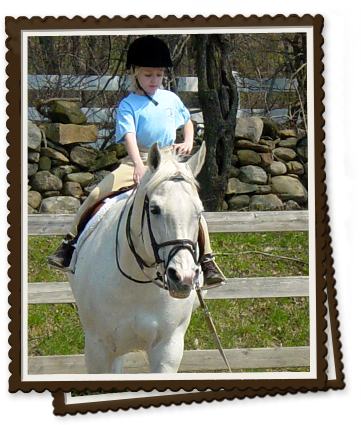 Training and Instruction
Philosophy of Riding
At Whimsy Brook Farm, with respect to riding lessons, we believe in the saying, "Zen Mind, Beginner's Mind." That is, the true Master always retains the open mind of the Beginner, knowing that there is always more to learn. As such, we believe that a horse and rider are partners in learning, and each has lot to teach the other.
We know that when a rider is having a problem with his or her horse, it may be that the rider is doing something that is causing the horse to respond in that particular difficult way. So the horse can teach the listening rider a great deal. We also believe that whenever you are riding a horse or handling it in anyway, you are training it- either to do the right thing or the wrong thing. And if you train the horse to do the wrong thing, it will remember to do the wrong thing for a long time.
In our riding lessons we specialize in teaching what we call Aware Riding. We believe that in order to ride well, individuals need to be in touch with both their minds and their bodies and with their horse's mind and horse's body. Particularly, in this busy and competitive world, many riders are unaware that they carry a great deal of tension in their bodies that seriously interferes with getting the desired results from their horse. As a result, we have invented a lot of creative exercises to help riders get in touch with the way they move and the way they are frozen, and help them and their horse become supple. We have also noticed that few American riders have a good sense of balance in the saddle, so we have developed exercises to help with this, too.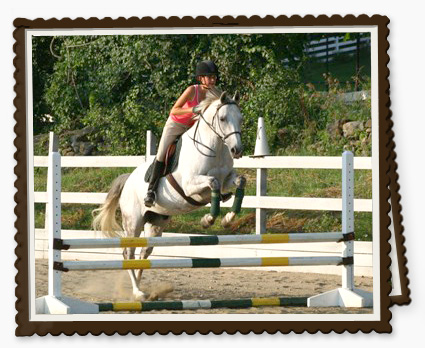 We also believe that the best way to get to know your mount is to work with your horse on the ground, so that rider and equine can learn to trust each other. Thus, all our riders are taught how to groom, lead, tack up, and put away their horse. Our summer youth and adult program is intensive in all these things, as well as lessons in stall maintenance, tack fitting and cleaning, equine conformation and more. We combine all this with a lot of fun.
We also teach stable management, and have group or private classes in a large variety of topics including show preparation, braiding, mane pulling, clipping, tack fitting, tack cleaning, horse clothing, first aid, leg wrapping, restraint, feeding and nutrition, worming, shoeing options, lunging, round penning, conformation, and movement.
We teach in a private or semi-private format, beginning with lessons on the lunge line like European schools. This way our riders learn to do things correctly the first time, rather than having to unlearn a lot of bad habits gained in group lessons where it is impossible to give sufficient attention to individual riders.
Call (203) 938-3760 for our current charges. Our secretary can answer questions from 9am-12pm Monday, Tuesday and Thursday.
You can also contact us online here.