Training and Instruction
Our Trainers and Instructors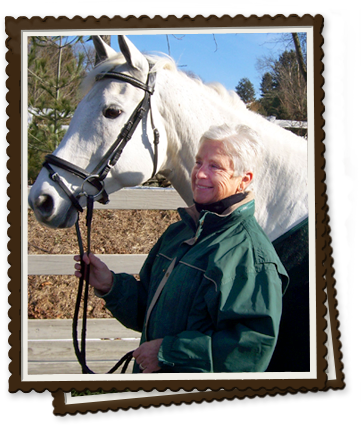 Candace Benyei, Ph.D.
Dr. Candace Benyei has bred, raised and trained horses and riders for over 45 years. A Horse Whisperer before it became a popular subject in the literature, she has always used a round pen and spoken "horse" to her charges, including the Farm's foundation stallion Whimsy Brook Rye who was Top Ten in the nation and Horse of the Year in New England for three years running as a hunter. Out of her training in bodywork, Dr. Benyei developed the technique she calls "Aware Riding," a way of observing the movement of horse and rider and then teaching the rider to become aware of his or her own body as well as that of the horse.
Dr. Benyei studied classical ballet for 12 years, is a practicing homeopath, was a research biochemist, and holds Masters degrees in Family Therapy, School Psychology, Theology, and a doctorate in Clinical Psychology.
A life-time farmer, she has served on the Board of Directors of Fairfield County Farm Bureau for over 26 years, and as its President for six years. She served as a Director of Connecticut Farm Bureau from 2013-2015 and is currently an Alternate Director for Fairfield County. Dr. Benyei is the Farm's US Pony Club Center Administrator.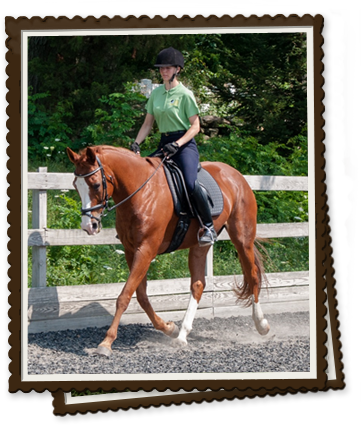 Max Goodman, Instructor/Trainer
A Philadelphia native, Max began riding as a child at a city barn she could walk to, which allowed her to work in exchange for her lessons. She studied balanced and centered riding, as well as hunt seat equitation, and competed at the local and state levels through her teen years.
After earning her BFA at the Tyler School of Art, she moved to Europe to ride professionally. It was there that she began her Dressage education in earnest, and learned about Philippe Karl and his Ecole de Legerete (School of Lightness).
When she returned to the states, Max joined the inaugural stateside Teacher's Course of the Ecole as a Reserve Rider (one of only 36 accepted in the nation). In the next two years she hopes to become fully certified as an instructor with the school.
Max has been a professional trainer, rider and instructor for 15 years now, and has taught students from ages 4 - 90, from first lessons to national level competitors. She teaches her students a combination of skills and practices she learned from Natural Horsemen (my favorites are Tristan Tucker and Buck Branaman), Balanced and Centered Equitation (Sally Swift) and from Classical Dressage Masters (Philippe Karl, Francois Baucher, Jean-Claude Racinet, Nuno Oliveira to name a few). As with all of us at Whimsy Brook Farm, she tailors each lesson to meet the particular needs of horse and rider, with optimal results. Max seeks to get not only the best athleticism from a horse and rider team, but also the best communication, understanding and relationship, believing in kindness, leadership and lightness above all else.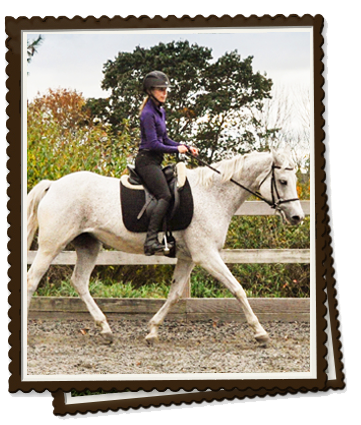 Tara Benyei, Instructor/Trainer
We are pleased to welcome Tara Benyei back to the Farm. She is a lovely rider and a kind and creative teacher. She grew up on Whimsy Brook Farm, where, at the age of 2 ½, she began her riding career on her Shetland pony, Spider. Several ponies and finally a horse later, Tara figured out how to leap onto her 15'2" hand Quarter Horse, Sufficient Proof, and ride her bareback through the pasture, much to the astonishment of her mom and teacher, Dr. Candace Benyei.
Unavoidably, Tara is steeped in the tools of Aware Riding, for which the Farm is well-known. Having two kids of her own, both of whom are U.S. Pony Club members, she is currently focusing mostly on the Farm's younger riders as well as schooling horses and ponies. Tara runs many of the Farm's Pony Club Horse Management sessions and coaches the team when they attend mounted Pony Club events off site.
Tara did a lot of equitation and hunter horse-showing as a kid, and went on to become a talented graphic designer, photographer, and commercial studio Art Director. She also manages social media and the design and production of all print communications for both the Farm and the family's Veterinary Practice, Schulhof Animal Hospital.