Organic Compost Sales
How We Make It & How To Get It
At Whimsy Brook Farm, we have always composted our manure. In fact, we have the first DEEP approved uncovered horse manure compost facility in the State of Connecticut. We rotate the compost from bin to bin as the manure and pine horse bedding decomposes into an incredibly nutritious soil conditioner/mulch.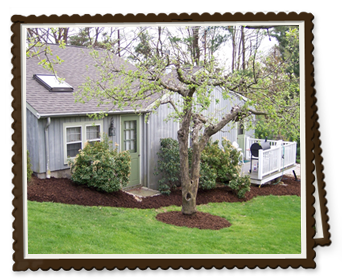 Horse manure is very hot and initially composts at around 160 degrees, killing weed seeds and harmful bacteria. In fact, it is so hot that if not sufficiently damp, it can spontaneously combust! Once the first cycle is finished and the compost cools a bit, we cover the compost with compost fleece so nutrients will not leach out but air can get in.
Why use expensive chemical fertilizer made from petroleum and pricy soil texturizers? Instead use our very affordable, exceptionally nutritious compost to condition your soil, make your landscape plants happy, and your flower and vegetable gardens amazing! Compost not only provides nutrients, it enables sandy soil to hold water, and clay soil to drain!
You can either pick up your compost at the Farm, or we can arrange to have it delivered for an additional charge. If you are an early bird, your compost just might come stocked with earthworms! Just call us ahead of time at (203) 938-3760 or email us to arrange payment and/or delivery. If picking it up yourself, we want to on hand to load your truck. We take cash or check or if you just need a little, and bring your buckets and baskets, you can have it for free!
If you would like to see a little more information about our compost operation, you can watch this short video:
Contact Us
Please fill out the form below to contact us about Organic Compost.