Training and Instruction
Youth Riding, Horse Management, Barn Rat, Horse Savvy, and Adult Instructional Programs
Youth Riding and Horse Management Program
For interested young clients, we offer a graduated Riding and Horse Management program that always begins with either ½ hour or 1 hour private lesson, depending upon the age of the student. Various packages of mounted and unmounted lessons are available. Horse Management is taught from a science perspective, whether it be anatomy, animal behavior, weights and measures in nutrition, or the functions of tack and equipment. Various packages of mounted and unmounted lessons are available.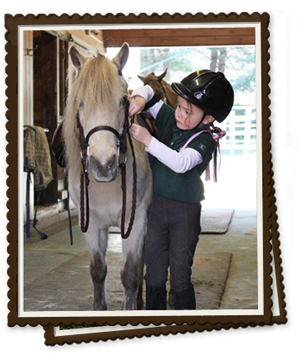 Beginners
For Beginners, the work encompasses basic work at the walk, sitting and rising trot, walk-trot transitions, halt, rein-back, beginning canter work, and ground pole exercises. We emphasize a deep and balanced seat, and much of the work is done frequently without reins on a lunge line. Many of the exercises are facilitated with horse games. Incorporated into this level is Beginning Horse Management, including grooming; the parts of the horse; haltering and leading; the parts of the bridle and saddle; the varieties of horse clothing; tacking-up, un-tacking, and tack cleaning, as well as beginning horse whispering.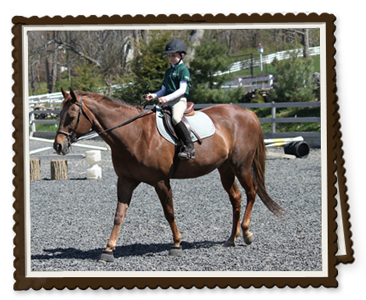 Intermediate Riders
For Intermediate Riders, the work includes trot and canter off the lunge line; walk-trot-canter transitions; simple arena figures; an introduction to collection and extension; beginning lateral work such as leg yielding and shoulder-in; turns on the forehand and haunches; and walking, trotting or cantering cross-rails and small vertical fences. Students also engage in Intermediate Horse Management, including introductory nutrition, conformation, basic restraint, bathing, feeding, stall cleaning, leg bandaging, mane pulling and braiding, and beginning in-hand work with horses on the ground.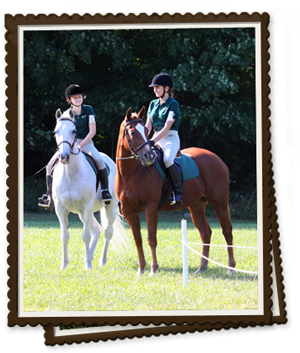 Advanced Riders
For Advanced Riders, the work includes more intricate exercises of collection, extension and lateral work; flying changes at the canter; bridleless riding on the flat and over simple fences; jumping courses of fences and gymnastics; and in-hand work with side reins and driving lines. Horse Management topics include more advanced horse in-hand work, advanced nutrition, advanced restraint, movement, first aid, the application of horse boots, shoeing options and show trimming and clipping, as well as loading and unloading a horse from a trailer.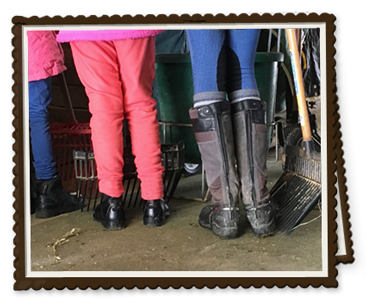 Barn Rat Program
Free of Charge
Our Barn Rat Program enables kids to come before, and stay after lessons and participate in the daily running of the farm. We have Barn Rat I, II, and III and IV Levels, each with separate written/oral and practical exams. With additional proficiencies, come addition approved activities around the barn.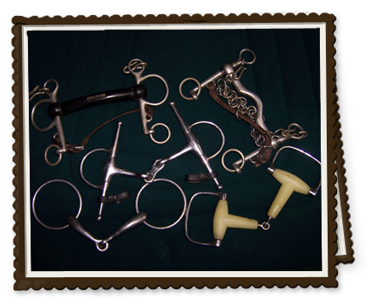 Horse Savvy Program
To reward our clients who are unable to afford their own horse, but still express an interest in learning about and participating in all aspects of horse care, we would like to introduce our new "Horse Savvy" Program. We offer the privilege of a riding lesson rate minus preparation fees for students capable of caring for their lesson horse without assistance from WBF Staff. This offers students purchasing a package of 5 riding lessons to have the option of earning a 6th (free!) riding lesson. As with our other package offers, payment must be received at or before the first lesson of the series.
Students must be over 10 years of age and learn and demonstrate the ability to perform all tasks necessary before and after riding. These tasks are to be learned and practiced in Horse Management lessons under the tutelage and supervision of WBF staff or the Trainer at the regular lesson rate. All tasks must be performed safely and correctly with absolutely no assistance, and the student must attain approval from the Trainer BEFORE the "Horse Savvy" rate may be applied.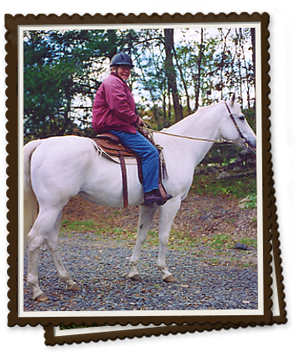 Adult Program
We teach adults that same safe way we teach kids, and have started adults at the age of 70! Most of our adults ride in the morning when their kids aren't watching... When we have enough interest, we also do adult group lessons for more fun! We try to teach parents that they also deserve some attention, good exercise, and recreation. And that riding is what is termed a "complicated physical exercise" and as such is known to develop more synapses in the brain, increase cognitive ability and reverse aging! Adults also may participate in the Horse Management Program, and Horse Savvy Program.
Basic Horse Management Certificate Program and Advanced Horse Management and Training
One cannot consider oneself a horseman or horsewoman unless one understands the care of the horse from the ground up. At Whimsy Brook Farm we teach our students everything they need to know about horses so they can be a savvy rider, horse owner, or even qualify for a job at a stable or horse farm. In our Basic Horse Management Certificate Program, students learn everything about basic safety around horses, proper handling, grooming, stall cleaning, feeding, tacking up and tack maintenance, leg wrapping, horse clothing, and record-keeping. We offer this training either as a 10 hour complete certificate course or students may take individual horse management lessons to qualify for the Certificate test.
For those students who are interested in deeper knowledge and perhaps an equine career, we also offer advanced training in horse whispering, equine first aid, advanced restraint, behavior management, feed supplementation, bitting, understanding equine dentistry, saddle-fitting, lunging, long-lining, trailering, braiding, shoeing, pasture maintenance, fencing, tractor driving, barn construction, and a host of other topics including starting the young horse in hand, on the flat under saddle, and over fences.
Ask us about our Riding Lesson/Horse Management and straight Horse Management packages.