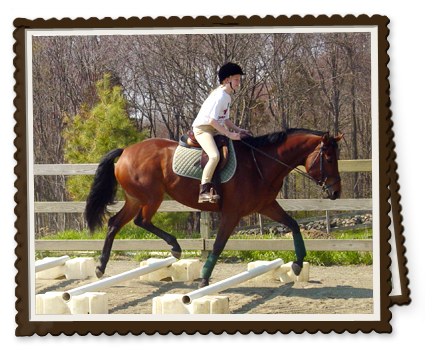 Boarding/Leasing
WBF Horse Shares
An Equestrian CSA
(Community Supported Agriculture)
The WBF HORSE SHARES Program enables clients to have the feel of owning a finely bred and trained horse without the risk, as well as able to more fully participate in our US Pony Club Riding Center Program should you so desire.
How Are Horse Shares Different From Leasing?
In the industry, a Standard Lease of a Horse/Pony is similar to buying and maintaining a Horse/Pony but on a temporary basis and without a large initial capital expense, i.e. the purchase price. In a Standard Lease only you and your trainer ride your horse and you have unlimited use of it. The lease pays only for the privilege of having a good animal to ride. You, however, must provide all your own tack and equipment, including blankets, and in addition must pay for the animal's total upkeep, including but not limited to board, supplies like fly spray, and all farrier and medical costs. Lessons, any necessary training, and show/transportation costs are additional.
With Horse Shares, we charge just for basic horse maintenance without an actual charge for blankets, leather tack use, or sick care. However, the horse is also used for other client lessons. If the horse is sick or injured, the client will be assigned another horse.
In addition to the Horse Share cost, the rider must purchase one or more Lesson Packages to cover the term of the lease. They must also purchase their own saddle pads, polo wraps, and horse boots, and wash and maintain same.
Horse Share participants will be assigned their own locker in the Boarder's Tack Room in which to keep these, and other belongings, during the period of the lease.
The Horse Share provides three rides a week, two of which are "free rides" without instruction, and the third ride is a lesson (additional lessons may be added from the lesson package as desired.) The "free rides" may also be used for organized trail rides, Pony Club Rallies, horse shows, and clinics without an additional charge apart from any shipping costs or away boarding costs.