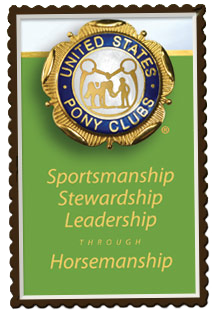 Pony Club
What Is United States Pony Club?
Because we share its core values, Whimsy Brook Farm has associated itself with the United States Pony Club and become licensed as an official Pony Club Center and member of the Pony Club Metropolitan Region.
United States Pony Club started in 1954 to teach the English style of riding and the proper care of horses. It is an offshoot of the British Pony Club, which was created in 1929 as a junior branch of the Institute of the Horse. Since then, Pony Club has expanded to include many countries around the world. The main purpose is to promote sportsmanship, stewardship and leadership through horsemanship. It is inclusive of all equines and folks of all ages.
Pony Club's core values are:
Horsemanship with respect to healthcare, nutrition, stable management, handling and riding a mount safely, correctly and with confidence
Organized teamwork including cooperation, communication, responsibility, leadership, mentoring, teaching and fostering a supportive yet competitive environment
Respect for the horse and self through horsemanship; for land through land conservation; and for others through service and teamwork
Service by providing an opportunity for members, parents, and others to support the Pony Club program locally, regionally and nationally through volunteerism
Education at an individual pace to achieve personal goals and expand knowledge through teaching others
Clients who join our Whimsy Brook Pony Club Center are eligible to participate in local, regional and national Pony Club activities including its instructional curriculum and its competitions and events.
Pony Club now has many "tracks" or disciplines in which individuals can achieve certifications which are internationally recognized proficiency credentials. The tracks currently available at our Farm are Stable Management, Dressage, Show Jumping, Western Pleasure and Western Dressage.
Whimsy Brook Pony Club Center generally meets the second and fourth Sundays of the month from 2-4 pm September – June. In the vacation months of July and August we do not meet as a club but participate in various Pony Club and group events, and work individually on riding and stable management skills. We also do not meet over holiday weekends.
If you would like to learn more about U.S. Pony Club, go to ponyclub.org or call the Farm and talk to Dr. Candace Benyei, Center Administrator at (203) 938-3760.
Joining Up
To join the United States Pony Club and our Pony Club Center, click here for the application.