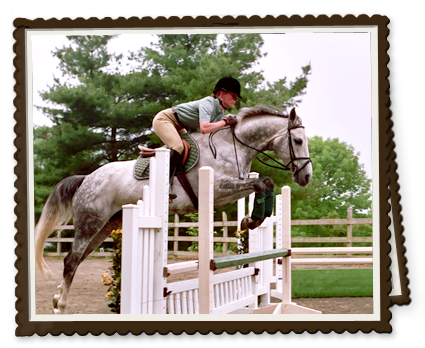 Training and Instruction
Philosophy of Training
The Farm has raised and trained horses since 1972. We are one of the few places in Fairfield County that starts young horses, solves behavioral problems, and trains Rescue Horses. And, of course, we also do short training tune-ups with more finished mounts.
Because horses are expensive to keep, we feel they should do their job well, and the owner should enjoy them. And we want them to do their job happily. To this end, we specialize in a non-confrontational approach, often called "horse whispering" which promotes the natural alliance of horse and trainer referred to as "joining up." To do this we make significant use of a covered, high-sided round pen and a lot of ground work, eventually progressing to work on the lunge line or with long lines. With Rescue Horses, sometimes the ground work begins with just helping them learn to trust us enough to pick up their feet to be cleaned. Many Rescues have never been saddled or sat on, so we have to introduce them to tack and having someone on their back. And convince them the someone isn't a mountain lion.
We then progress to work mounted on the flat and finally mounted over fences if the horse is to be a hunter or a jumper.
Rescue Horses often come with stomach or colonic ulcers, because as rescues, they have been stressed and frequently abused. Ulcers cause their own training problems as the horse is uncomfortable. We can help owners heal their horses from ulcers, as well as many other injuries that interfere with their rehabilitation.
WBF is also great place to bring your horse for a one month show season tune-up if you do not have a trainer at your barn. We specialize in helping owners with all sorts of behavioral training problems, as well as rehabilitation after injuries, or simply tuning their horse up after a period of inactivity or illness.
If your horse does not ordinarily reside with us, and it has a training problem, we will provide an assessment of the problem, along with training recommendations. Our intention is to send you and your horse back to the barn you came from in a happier frame of mind.
As an owner, you can select single session training, or any combination/frequency of training rides, ground work, private lessons, and exercise that suits your degree of chosen involvement and your pocketbook. If you have a rescue horse, it is most advisable to board it at the Farm until it has progressed to a point in trust and training such that you feel comfortable working with the horse on your own.
Using our covered round pen, we teach owners to train their own horses, be it horse whispering, or the essentials of ground work. We also teach nutrition, the theory of bitting, saddle fitting, the use of a variety of training aids, what you need to know about horse diseases, farrier and dental care, first aide, as well as stable maintenance, fencing and pasture maintenance.