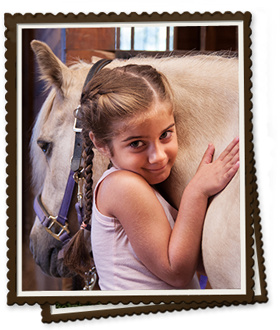 Camp & Events
Summer Youth Camp
By popular request, camp runs for a half day from 9:30 am to 12:30 pm to allow for other non-horsey activities. To get a real flavor of what our program is about, please visit us on Facebook or Instagram.

We will be offering both one- and two-week Horse Camp sessions that will incorporate mounted horse games, horse management lessons, and crafts. And everyone will be introduced to the techniques of Horse Whispering. Our program is particularly unusual as we have a staff ratio of one staff to two campers and only take 8 campers per session!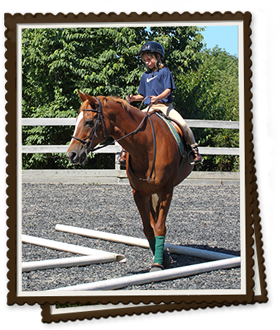 Although certainly not mandatory, we encourage all campers to join our US Pony Club Center, and become internationally accredited in riding and horse management. Persons young (at least 5) and old may join our Pony Club Center program which teaches "sportsmanship, stewardship, and leadership through horsemanship." For more information, visit our Pony Club page, go to ponyclub.org, or call the Farm at (203) 938-3760.
There ARE some differences this year, due to Covid-19 considerations. First, to make certain all parents and riders are well acquainted with our mandatory Covid-19 protocols, we are requiring that each camper take our private 5-lesson introductory package, before the start of camp. And, in addition to proper riding clothes, all campers must have a grooming box, and their own saddle pads, lead rope, and leg wraps. We are also limiting campers to 7 years old and older.
2021 Dates

Camp Session #1
August 2–6
Camp Session #2
August 9–13
Time: 9:30 AM – 12:30 PM, Monday–Friday
Cost: $799 per session / $1499 for two sessions
Space is VERY limited so sign up now!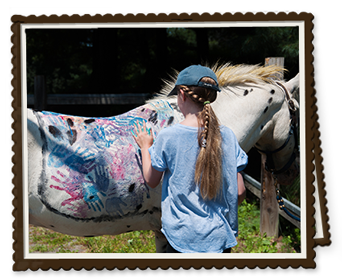 A non-refundable deposit of $799.00 for a single session and $1499.00 for a double session is due at sign up.
Private riding lessons are available on weekends or during the weekdays after camp sessions at an additional cost. Students age 10 and over, who have ridden with us previously and have passed the appropriate Barn Rats Exam, may stay for the rest of the afternoon and help out around the farm.
Students must have appropriate gear for riding – an ASTM approved riding helmet, riding pants, and paddock boots (short riding boots). Enrollment is restricted to students 7 years of age and above.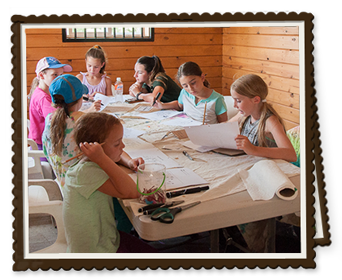 Click here to download the Summer Youth Riding Program & Clinic Registration Form
Or call Michelle on Monday, Tuesday, or Thursday from 9am-12:00pm at (203) 938-3760 for registration materials and to ask additional questions.
For more photos of Horse Camp, please visit us on Facebook or Instagram.